Eduardo Rojo holds a degree in Piano Jazz from the Esmuc (Barcelona) and a degree and master in Jazz Composition from Codarts (Rotterdam) and carries out his professional activities in different fields: as a pianist, composer/arranger/orchestrator, musical programmer and teacher. His work is characterized by the influence of different kinds of music, principally folk, classical and jazz music.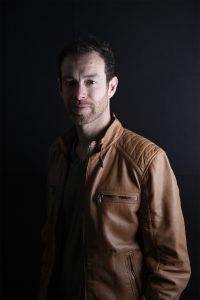 He has won several international awards, highlighting the Bargajazz Contest International Competition for Jazz Orchestra Arranging and Composition (2015 and 2016, Italy) and the International Competition for Composition and Arrangements for Jazz Orchestra "Scrivere in Jazz" (2016 and 2020, Italy). In 2017 he obtained the 2nd prize in the IV Big Band Composition and Arrangement Contest organized by the SGAE (Spain) as well as being a finalist in the "International Animated Film Music Competition" (Greece) and in the Bargajazz Contest International Competition for Jazz Orchestra Arranging and Composition 2019 (Italy).
He has worked, among others, with Dennis Mackrel (Count Basie, Maria Schneider, Mel Lewis Orchestra…), Jazz Orchestra of the Concertgebouw, Franco D'Andrea, Nederlands Blazers Ensemble, AKOM Ensemble, flamenco guitarist Gerardo Núñez, dancer Carmen Cortés, Codarts Big Band, Peter-Jan Wagemans, Paul M. Van Brugge, Tim Kliphuis, Barga Jazz Orchestra, Big Band de Canarias, The New Music Ensemble of Rotterdam or Sole Giménez.
He was born in Santa Cruz de Tenerife (Canary Islands, Spain). At a very early age he is attracted to music, which leads him to study classical piano at the Professional Conservatory of Music. In 2002 he moved to Barcelona where he entered at the ESMUC obtaining the degree in Piano Jazz. At this time he received piano lessons from Lluís Vidal and Albert Bover and composition from Helmut Lachenmann and Albert Guinovart.
In 2007 he travelled to New York, where he took piano lessons with pianists Michael Kanan and Luis Perdomo, as well as with arrangers Arun Luthra and Rich Shemaria.
Over time, he decided to move to the Netherlands in order to take the Bachelor degree in Composition and a Master degree in Jazz Composition at the Codarts Conservatory, where had lessons, among others, with teachers Robin Raaff and Paul M. van Brugge. This experience allowed him to break free from the shackles of tradition and develop a personal language without being stuck in the past and with a broader view of music. He completed his master's degree in 2013 with a rating of outstanding. Between 2016 and 2018 he studied "Music Composition for Film and TV" at Berklee, obtaining top marks.
Throughout his career he has composed for a lot of different lineups, an experience which has helped him to face the most diverse situations, from solo instrument to orchestral music.
Nowadays he lives in Madrid, where he combine his work as composer/arranger and pianist and docent at the university center TAI, center attached to the RJC University.